Airsoft pistols are the most compact weapon you could use, which presents unique challenges for use in competitive play. Most players will use a pistol as a secondary weapon in close quarters, but can you use one as your only weapon?
You can play airsoft with only a pistol. No rules are outlawing the use of a pistol as a primary, and it is an exciting challenge for seasoned players looking for a change of pace. Using a pistol effectively is all about managing range and mobility. 
This article will examine the pros and cons of only using an airsoft pistol in competitive play and what strategies you should use to succeed with your trusted sidearm. 
How Can You Dominate Using Only an Airsoft Pistol?
When determining how to use a pistol as your primary weapon, first, you need to evaluate the space you'll be playing in. Evaluate whether the space you're playing in is an open field with long sightlines or if it is a close-quarters battle (CQB) map with manufactured walls and barriers. 
You need to be comfortable with the range you'll be playing at to dominate using only an airsoft pistol. Evaluate whether the space you're playing in is an open field with long sightlines or if it is a close-quarters battle (CQB) map with a lot of corners and small sightlines.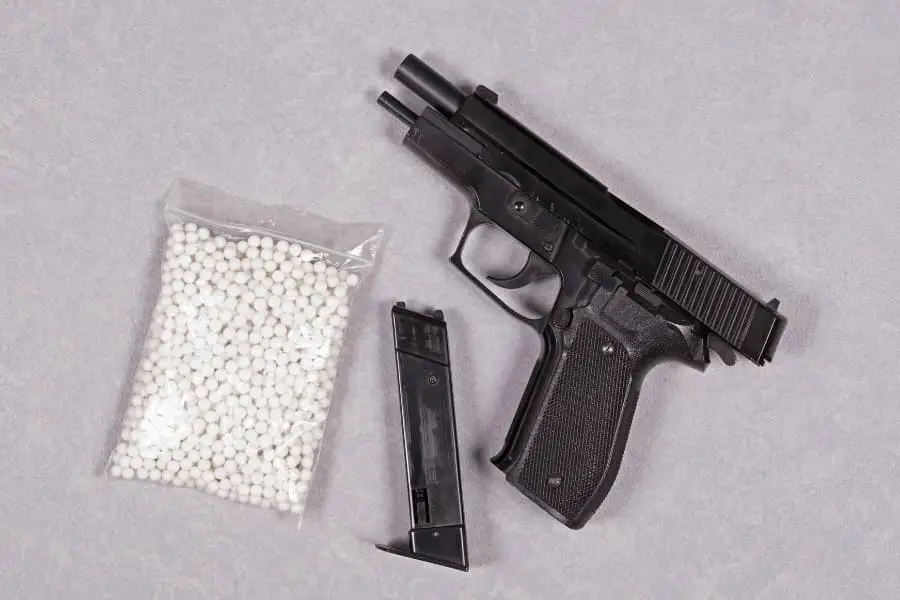 Playing in a Field
It is possible to dominate with a pistol-only infield play, but you have to understand the advantages a rifle player has over you. 
Those playing with a rifle will have a larger magazine capacity, longer ranges, better accuracy at long range, and potentially better target acquisition at range. If you're playing a full-auto game, you will also have to deal with faster fire rates. 
Your range is the key here. The only advantage rifle users have is their ability to play over long ranges. So the first thing you need to do with any encounter is determining whether you are in combat range. 
If you're in range, use your mobility to your advantage and move from cover to cover to retain tactical advantage throughout the entire encounter. 
If you're not in range, you can hunker down and wait for your opponent to come to you, or you can use stealth and flank your opponent. This stealth maneuver becomes much easier when the bulk of a large rifle doesn't burden you. Instead of having a large gun base that an opponent can easily spot, you can sneak between points of cover without being noticed. 
Playing Close Quarters
In close quarters matches, the utility of running pistol only increases sharply. All encounters will be at close range, so the natural advantage that rifles have is eliminated. These close quarters allow you to maximize the mobility of your pistol.
Only carrying a pistol allows you to move faster and quieter as opposed to having a gun on a sling. The most useful benefit of a pistol is the gun's small profile, allowing you to work corners easier.
Players on the forum site airsoftsociety.com rave about playing close quarters with only a pistol. If you are in physical shape enough to run around the map and clear corners quickly, then you will be able to take out rifle users before they even know you're there. 
Some CQB maps have longer sightlines, which could be a concern to someone using only a pistol. Because of this, it is vital to know the map you're about to play on before attempting this challenging yet fun playstyle. Do not engage with opponents in firefights over 30 feet (9.14 m) in distance. 
The Best Pistol Only Loadout
Playing with a pistol as your only weapon is incredibly fun, but your success largely depends on having the right equipment. 
The TM-MK23 is widely seen as the best pistol sidearm for a standard loadout. Its drawback is the double-action non-blowback mechanism gives it a slow fire rate. This would make it near impossible to be successful using it as a primary weapon. 
A TM-HiCapa is a 1911 style platform that may be a good fit to use as a primary. It has a large market for available upgrades allowing you to customize the weapon to your liking for CQB or field play. Unfortunately, this manufacturer has had issues keeping up with demand, so aftermarket parts are rarely available. 
Perhaps the most popular choice for using a pistol as a primary is the Glock G17. The customization options are very robust, and they maintain an adequate supply of aftermarket parts. 
If you don't want to customize or upgrade your pistol, an M93R would be a great choice. It comes out of the box as the most primary-ready pistol because of its accuracy and range. This does come at a cost because this pistol has a bigger frame than most others on the market, but it shouldn't be enough to slow you down. 
Top Picks of Airsoft Pistols
If customization and upgrades are what you're looking for, then you should go with the Evike Tokyo Marui Hi-Capa GBB Pistol from Amazon.com. The pistol is made of plastic, featuring a lightweight flat-faced trigger, with stamped trademarks on its body.
If you want out-of-the-box performance, then go with the KWA M93R Full Metal Gas Blowback Pistol on Amazon.com. This pistol is made of metal, with a realistic field stripping. It comes with a 32 round Green Gas magazine, allowing for enough ammo before you run out of them.
Final Thoughts
Playing with a pistol only in airsoft is not only possible but can be a fun challenge. Dominating with a pistol is all about tactics. You have to know your ranges, ammo capacity, and how to use your mobility to your advantage effectively. Don't engage in a firefight that you aren't confident of winning.
Having the right equipment to do this is essential to pick up one of the recommendations given above or spend time on a forum like airsoftsociety.com to talk to other airsoft enthusiasts about the loadouts that they use. 
Go out there and have some fun!
Related Articles