Have you ever shown up to play an exhilarating day of paintball and left realizing it cost much more than you expected? Or has the cost of the game been something that has held you back from giving it a try in the first place? Well, why is paintball so expensive, anyway? 
Paintball is so expensive because many fees quickly add up, including rental gear, field use, compressed air refills, and field paint requirements. However, buying your own gear and finding sites with lower rates, all-day air, and no paint restrictions can reduce your playing cost significantly. 
There are many one-time and recurring fees that go into a game of paintball. Luckily, the better you understand these costs, the easier it is to find places where you can shed off a few dollars. Keep reading to find out more about what makes paintball so expensive and how you can make it more budget-friendly. 
The Price of Paintball
Paintball can be an expensive hobby, but where does the high price tag truly come from? The site fees are typically low, but it's the equipment that adds up. Since paintball is a high-impact activity, it requires some good quality protective gear to keep you safe while playing. You are getting shot at, after all. 
So, how much does the actual site cost to rent? The exact price ranges from place to place, but you can expect to pay an average of $10 to $25 to rent the paintball field. However, gear rentals can cost between $30 and $60, so you'll be paying around $40 to a steep $85 to play. 
Plus, the paintballs themselves are disposable. That means that unlike many other types of sporting equipment, you'll have to use (and purchase) new ones each time you play. That cost can add up quickly too.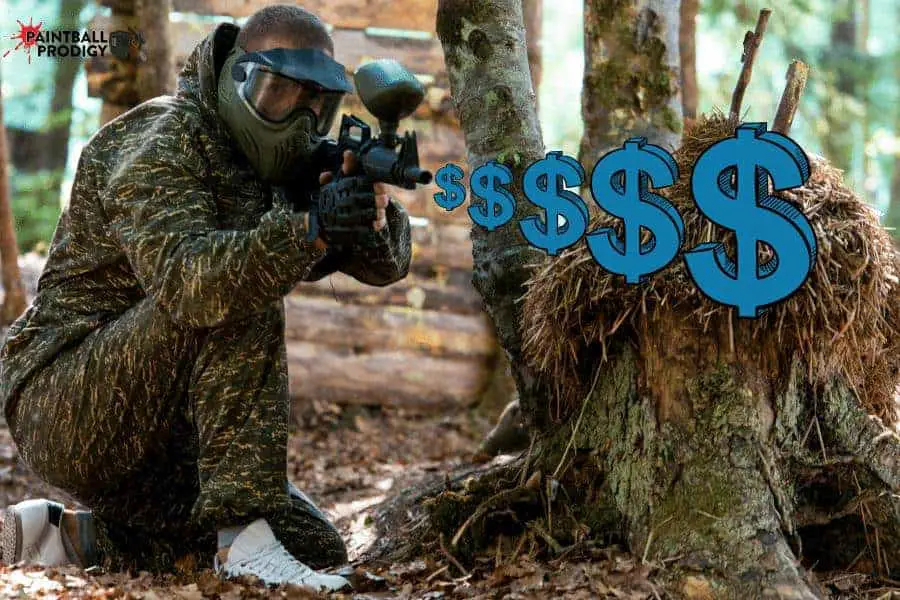 Necessary Equipment
Hands down, the most expensive aspect of playing paintball is the equipment costs. So, what exactly does one need to play a game, and how does the price breakdown? 
Paintball Gun
As you can probably guess, the gun itself is one of the biggest investments in paintball equipment. After all, it is the difference between a good shot and a great one. Luckily, most paintball guns come with all of the gear you need if you choose to buy your own. Typically, you'll get a kit that includes:
Gun
Face shield
Chest protector
Neck protector
Gloves
CO2 tank
So, while you might pay a couple of hundred dollars for a gun, you'll actually be getting much more than that. Check out Amazon.com to browse some of their options, such as the Action Village Tippmann Cronus Tactical Paintball Package that comes with just about everything you need to hit the field. I would recommend this package to a beginner as it is a great value and a bestseller on Amazon for a reason.
Prices pulled from the Amazon Product Advertising API on:
Product prices and availability are accurate as of the date/time indicated and are subject to change. Any price and availability information displayed on [relevant Amazon Site(s), as applicable] at the time of purchase will apply to the purchase of this product.
This kit is loaded with a comfortable anti-fog mask for easy all-day wear, an easy-to-load anti-jam gun, and a lightweight, protective vest that's breathable even as you're dodging paint bullets in the hot sun. 
Paintballs
Each paintball field has its own set of rules regarding acceptable paintballs. Some sites only allow "field paint," which means that players can only use paint bought on-site. In some places, this can ring in at a whopping $60 for a box of 2,000. 
Check-in with your local site to find out their protocols on using your own paintballs. If they're cool with it, then you might be able to shed a few dollars off your recurrent playing fees by stocking up on a few boxes of your own when you find some on sale. 
Just because you bought it, off-site doesn't necessarily make it a better deal, though. Professional-grade paint isn't cheap, so be careful about what you buy. A box of 2,000 rounds can go for around $80. 
Keep in mind that paintball newbies can fire up to 600 paintballs a day. If you're paying field paint prices, that's an average of $10.50 and $18 on paint alone.
If you're just starting out and still perfecting your game, try to find a site that lets you bring your own paintballs. 
Alternatively, get some practice in with AOOHYEO Reusable Paintballs. The more accurate your shot is, the more money you can save. If that isn't motivation to practice, I don't know what is. 
Prices pulled from the Amazon Product Advertising API on:
Product prices and availability are accurate as of the date/time indicated and are subject to change. Any price and availability information displayed on [relevant Amazon Site(s), as applicable] at the time of purchase will apply to the purchase of this product.
Air
The concept of paying for air may seem a bit silly at first, but we aren't just talking about any air – it's compressed air or CO2 that you'll need. This is where your gun gets the power to shoot. The price of compressed air depends on the field you're playing at. 
There are two main air options that paintball sites offer: price per refill or all-day air.
Some fields will charge you every time you fill up your tank, while others may charge you a one-time, flat rate for unlimited throughout the day. If you're there for multiple rounds, the latter is usually the budget-friendly choice. Look for a field that offers this deal.
Renting vs. Buying
Many paintball facilities allow players to bring their own equipment. Is this the cheaper option, though? Let's take a look at some factors.
Frequency of Play
Regularly renting equipment can significantly add up.
If you play frequently, buying your own gear quickly pays for itself.
However, if you're unsure that paintball is a hobby that you'll stick to for a while, it's usually best to just pay the rental fees. It can be pricey upfront to purchase your own gun and gear. 
Quality of Equipment
Rental equipment is typically outdated and overused, not to mention overpriced if you're a frequent player. So, if you're a regular on the paintball field, you might want some better equipment to up your game. 
If you'd like to own your own gear, you'll be looking at dishing out a larger initial investment. When it comes to guns, prices typically start around $70, but most paintball guns of quality can peek around a few hundred dollars. After all, the higher quality the gear is, the pricier it will be.
Especially if you want to buy one of the most accurate paintball guns, then be ready to spend at least two hundred dollars on the paintball gun itself.
Cheaper equipment might mean a lower cost upfront, but it may not last as long as its pricier counterparts. Still, as we mentioned, both can save you cash if you're playing regularly. 
If you aren't ready to dish out that much cash yet, but you want to get some gear of your own, consider buying used. Check out secondhand sites like Craigslist and Facebook Marketplace regularly to keep your eye out for a great deal. 
Which Is Better?
Choosing between renting and buying all depends on your individual experience and needs.
If you're a well-seasoned player who wants some reliable equipment of your own, buying can save you money in the long run (and a quality gun might help you get some more wins in your pocket). On the other hand, if you only play a couple of times a year, it might be cheaper and more convenient for you to continue renting equipment on-site, at least for now.
If you do go and decide to buy your own equipment, then make sure that you take care of your gear and also clean the paintball with a squeegee properly. This way it can be years before you need to go shopping again.
How Can I Save Money Playing Paintball?
If you'd like to shed some dollars off of your next game of paintball, consider contacting your local fields to find out some more information on their fees and regulations. Here are some things to inquire about:
Field paint. Find out if the site requires you to use paintballs purchased on site. If they do, this can jack up the price of your games.
Site fees. Compare the playing fees across different sites to see which location offers the best deal per game. 
Air charges. Ask about how the field charges for air. Will you have to pay per refill, or is it a one-time fee for all-day air? The latter can save you a few dollars. 
Equipment prices. Most, if not all, fields offer rental gear. See how much these fees vary across local sites and what kind of equipment is included. Also, consider investing in your own gear if you're a regular player.
Final Thoughts
On-site fees associated with playing paintball can add up quickly. These costs include gear rental, field paint only restrictions, pay-per-refill compressed air, and site use. Luckily, players can minimize these fees by purchasing their equipment and finding fields with lower site rental costs, all-day air, and compliance with their own paintballs.