Scrolling through airsoft photos on the internet before your first airsoft session is rarely a good idea. Pictures of players in what seems like full military regalia might intimidate you into thinking you need more investment before starting airsoft. However, you will enjoy airsoft without getting hurt with readily available clothes and basic safety equipment.
The most essential gear for airsoft is goggles for eye protection. Your eyes are most vulnerable to injury from the fast-moving bbs. The rest are necessary, but you can survive an airsoft game without them.
To better understand what to wear for airsoft, I will discuss all the options available in terms of airsoft outfits. I will explain the options for amateur and professional games while detailing the cost of every choice.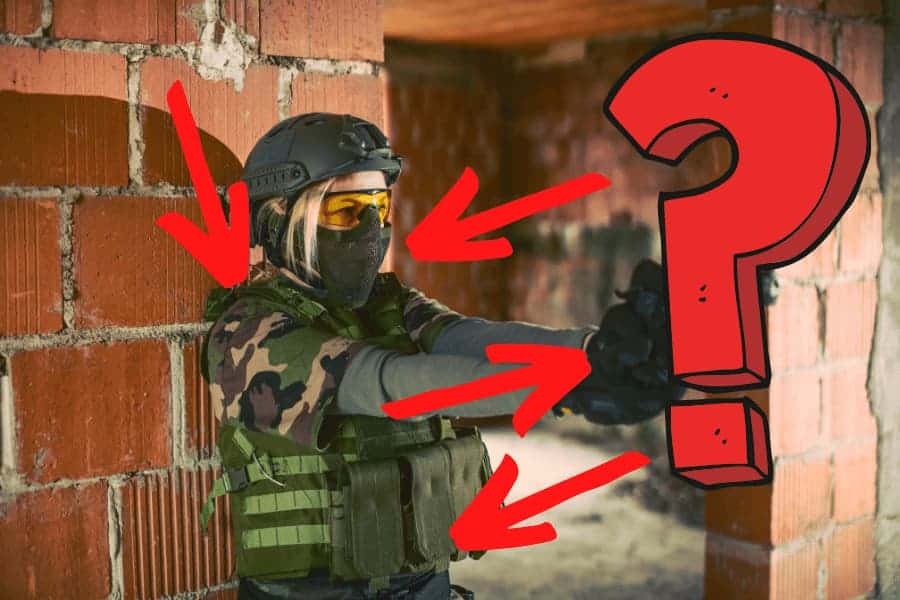 Face
The area most susceptible to injury during airsoft is your face. The eyes are especially sensitive to airsoft pellets. 
Most airsoft arenas will not allow you to play airsoft without eye protection. Spare no expense when buying goggles for airsoft. You want the goggles to have strong glass that will not shatter under impact. Go for reputable brands that extensively test their products before releasing them into the market. Ensure that the goggles fit well before completing your purchase.
For extra protection, pair your goggles with a face mask. The best face masks are made of mesh to offer protection while allowing you to breathe freely. Additionally, wearing goggles with a mask during airsoft looks so cool. You can tailor your outfit to flow with your mask and goggles. 
Some airsoft players go for a full face mask because it covers the whole face. These masks are convenient as they save you the hassle of getting individual items for face protection. However, they offer no separate area for the lens, making them susceptible to fogging. For an amateur game, a scarf or bandana from your closet will work as a mask. It will protect you from airsoft pellets and ensure unrestricted airflow. 
Some unlucky players lose teeth during airsoft, and the skin around the neck and chin areas is particularly sensitive to pain. Find a scarf to cover up that sensitive area, especially if you have a low pain tolerance.
I have an in-depth article on simple steps to do to stop your airsoft goggles from fogging up.
Head
You should refrain from aiming for the head during airsoft. Executing a headshot is fun, but you risk injuring your opponent, which is not fun. 
Despite this advice, you will inevitably get several shots to the head, especially in an amateur game.
A baseball cap will offer adequate protection against any stray airsoft pellets. A knit cap provides better protection as it covers the ears, but it can prove uncomfortable during the summer. 
A hoodie is perhaps the best cheap option for amateur airsoft. Everybody owns a hoodie; it is light and, therefore, viable during the summer; and it offers adequate protection for the neck, ears, and head. 
Airsoft helmets are the expensive option. They offer full-proof protection and allow for the addition of accessories such as GoPro cameras and lights. 
Experienced airsoft players go for helmets as they form part of their outfits. 
It looks fantastic, and if you have the money, an airsoft helmet is a handy accessory. However, it is unnecessary for amateur airsoft, especially during indoor games. 
Whatever you choose for head protection, ensure that it is not brightly colored. You do not want to make it too easy for your opponents to discover your position. 
Torso
Most of your opponents will aim shots at your torso. Airsoft pellets aimed at your torso will not do any damage, but they'll sting if they hit exposed skin. 
A loose long-sleeved t-shirt will protect you from airsoft shots. Avoid tight-fitting t-shirts as they will not protect you from the sting of a close-range pellet. 
A hoodie will cover your torso adequately. However, be mindful of the weather before you opt for a hoodie: You can get uncomfortable in a hoodie while playing during summer. 
You can also invest in a tactical vest. It is unnecessary for amateur games but a necessity for professional competitions. 
It allows you to carry ammunition comfortably in its front pockets. Furthermore, a tactical vest protects you from pellets and looks nice when paired with matching attire. 
Airsoft vests come in many varieties that suit different scenarios. When preparing for a professional airsoft game, pick a vest that will suit the demands of your game and the challenges you may encounter. 
You are unlikely to take off your vest during the game, so make sure it fits comfortably. Additionally, ensure that it is made of breathable material.
Arms
You should avoid tank tops and short-sleeved t-shirts during airsoft games. 
An airsoft pellet will not penetrate your arm skin, but it will sting a lot. So, pick clothing that covers your arms. A hoodie, once again, will protect your arms perfectly. 
A baggy long-sleeved t-shirt will also do the job. 
Some people opt for training clothes because they offer greater mobility and breathability. 
They have their advantages, but crucially, they will not protect you from a pellet's sting given their tight-fitting nature. 
If you do not have a hoodie or a loose-fitting t-shirt, try using a leather jacket. A leather jacket can be tight-fitting and still absorb the force of an airsoft pellet. 
Avoid anything too thick as it might prevent you from knowing when you get hit. The goal is to block the pain without compromising the game. 
Hands
Exposed hands suffer a lot from the wrath of airsoft pellets. Hands have little to no fat to absorb the pellets' impact, making a hand shot extra painful. 
Furthermore, hand skin chips off more easily due to its proximity to the bone. A pellet to an exposed knuckle will likely break off some skin.
Therefore, you should protect your hands using gloves. Any gloves you have at home will do as the goal is to protect the skin on your hands against direct contact with flying pellets. But those aren't optimal. You need to pay attention that gloves offer enough protection but at the same time still don't hinder your mobility and performance.
Fingerless gloves that cover most of your hands and leave the tips work good for airsoft as well. They protect your arms while allowing you to have a firm grip on the gun and the trigger. But they come with a risk, and for a good reason, I don't use them anymore. It can be very painful if you get shot in the unprotected fingers from a close distance.
Your best option is to invest in tactical gloves. They offer top-of-the-range skin and knuckle protection. I have a detailed review of tested best airsoft gloves in the 2023 article.
Additionally, they are light and offer excellent grip.
Tactical gloves are also the right gloves if you are going for a military look. They look great and blend perfectly with military attire.
Legs
Avoid shorts or any clothing that will leave your skin exposed. Airsoft opponents rarely aim at the legs, but it is conceivable that a stray pellet will hit you on the leg.
Thick trousers will work for airsoft. Camo trousers work exceptionally well, especially for outdoor airsoft games. They give a military feel to the game even though they are pretty cheap and easily accessible. 
An old pair of jeans that you will not mind getting dirty will also serve you well in the airsoft arena. Jeans allow for flexibility, aeration and will block the pain from any airsoft pellet. Most airsoft arenas do not have restrictions for leg protection as the worst you can get is a skin injury. They will allow you to wear shorts, but I advise that you stick to pants. 
There's not much difference between tactical pants and jeans apart from color and knee protection. Tactical pants come with padding on the knees to protect you from hard falls during the game. Professional players opt for such pants because they add to the realism of the game. However, padded pants are unnecessary for amateur games. 
Feet
Any shoe that exposes your feet will not work in an airsoft arena. Like your hands, your feet barely contain fat. Therefore, a powerful shot on your feet will sting a lot and probably chip off some skin. Avoid playing airsoft using flip flops or crocs. 
Any outdoor shoe with grip and a sturdy sole will do nicely. You will do a lot of running during airsoft, so it is essential that you have a comfortable shoe. 
Hiking boots offer a cheap and reliable airsoft option. They are comfortable and have a thick sole that will guard against rocks and any sharp objects. 
A major issue with airsoft, especially outdoor airsoft, is the risk of rolling your ankle. The risk increases when you play in uneven terrain. It is easy to roll your ankle when switching cover or when pursuing a target. Therefore, you want a shoe that will protect your ankle. Hiking boots will do just that. They are built to withstand challenging terrain over long periods while protecting the user's feet and ankles from damage. However, if you have some extra cash to spend, purchase tactical boots. They offer all the advantages of hiking boots and more.
Like hiking boots, they are comfortable and will prevent your ankles from rolling. Unlike hiking boots, however, they have extra padding around the ankles to guard against rocks and airsoft pellets. Furthermore, tactical boots have an exceptional grip that should keep you upright no matter the terrain. They are also breathable, making them perfect for long airsoft games. 
Additionally, they look like military boots, making them the go-to option for a person looking to mimic an army look. You do not need thick-soled shoes for indoor airsoft. A pair of tennis shoes with a good grip will work in an indoor arena.
Joints
The amount (if any) of joint protection you need depends on the type of airsoft game you are to play. If you face treacherous terrain and are likely to hurt your joints, you need extra protection for your knees, elbows, and wrists.
For instance, you will probably need padding to prepare for MilSim—military simulation—events. These involve airsoft games that mimic military situations.
The outdoors event takes place in rugged terrain as the goal is to mimic military fights.
The fighting can last up to 40 hours, depending on the simulation. If you participate in such an airsoft fight, purchase padding to ensure comfort and protection on the battlefield. 
Remember to buy padding that aligns with your military attire. MilSim games have strict rules about uniforms that they require you to observe. You do not need extra padding for your joints to play amateur airsoft.
Factors To Consider When Choosing Airsoft Apparel
The information above should give you an overview of what to wear for airsoft. However, before you choose what to wear or purchase for airsoft, take a look at the factors you should consider.
Type of Airsoft Game
The type of airsoft game you are about to engage in should guide the apparel you chose for airsoft.  You will get away with a pair of goggles and a mask for an amateur game. However, you need to pick your outfit carefully for professional matches. Check to find out if there are rules for the outfit beforehand. It will help you purchase a suitable kit to wear for the game.
Familiarize yourself with the terrain to ensure that you pick the right apparel. It will guarantee your safety and ensure that you have fun playing. 
Price
You do not need to spend too much on airsoft attire, especially if it is your first time trying it. Sure, military-like airsoft outfits look exceptional, but the good looks come at a price. As you've seen above, most of what you need for an amateur airsoft game is in your closet. Do not go for expensive items before you get used to airsoft. You might not like the game after the first few tries. So, there is no need to go all out on expensive outfits before you decide to take up airsoft seriously.
Conclusion
You can enjoy airsoft while wearing the clothes you have in your closet right now. The most crucial thing for airsoft is eye protection. Do not compromise with eye protection as an airsoft pellet can cause severe eye damage. The rest you can get away with, but with a fair amount of pain. 
For professional airsoft games, you will need a lot more than the clothes in your closet. You might need to invest in professional attire to enjoy such games.
Related Articles