Airsoft guns aren't as heavy as real firearms, but they aren't light as a feather, either. So if you're looking to get into airsoft, you'll need to know if you're able to handle the weight of the gun as you navigate the many obstacles you'll encounter on the battlefield. 
The average beginner's airsoft gun weighs about 7 lbs (3.17 kg). However, there are many different types of airsoft guns – including pistols, shotguns, ARs, and sniper rifles. Depending on which gun you choose, the average airsoft gun can weigh anywhere from 2 lbs to 15 lbs (0.9 to 6.8 kg).
In this article, I will explain what affects airsoft gun weight, why there's such a difference in weights, and explain how you can minimize the weight of your gun. I'll also cover which gun weight class is best for you based on your airsoft playstyle. 
Lightest guns mentioned in this article that are available on Amazon:
Image
Title
Prime
Buy
DPMS Full Auto SBR CO2-Powered BB Air Rifle with Dual Action Capability, Black DSBR

Prime

Check on Amazon
Elite Force 1911 Blowback CO2 Powered 6mm BB Pistol Airsoft Gun, FDE/Black, 1911 TAC

Prime

Eligible

Check on Amazon
Sig Air, SIG1, MPX Spring Airsoft Rifle

Prime

Eligible

Check on Amazon
Spring-Powered Guns Are the Lightest Option
Have you ever held an authentic gun or firearm, aimed and shot at a target, and carried it around with you? 
How did it feel? Was it heavy, or was it as light and easy to handle? 
More likely it was heavy. And I bet aiming and shooting took skill and practice. 
It's the same when looking at airsoft guns. The weight typically depends on two factors: the type of firearm you plan on using and the materials that make up the gun. 
There are four different categories of airsoft guns, and each of these can vary in weight from the others. Let's take a closer look at each below:
Spring-powered guns are the lightest because they have the fewest number of parts to them. In addition, spring guns have a simpler model than the other categories since they are only one-shot firearms and have to be loaded manually.  
AEGs will be bulkier and weigh more because they have a battery pack attached to power the motor inside and internal gears that make up the device. These airsoft guns are designed to be very realistic and have decorative features that are very similar to those of real firearms. 
Gas-powered guns are heavier due to the additional weight of the compressed gas in the magazine. Therefore, they will weigh more than AEGs and are usually spring-powered as well.  
Hybrid guns will give you the most realistic look and feel of any airsoft gun. They are typically used for training military and police officers and will have a weight similar to that of a real gun.  
Airsoft guns can be made of various materials such as plastic, polymer aluminum, metal, or steel. Guns made with metal, steel and aluminum will weigh more than guns made with plastic and polymer, including the size and model of the gun, which play a significant factor in weight and density.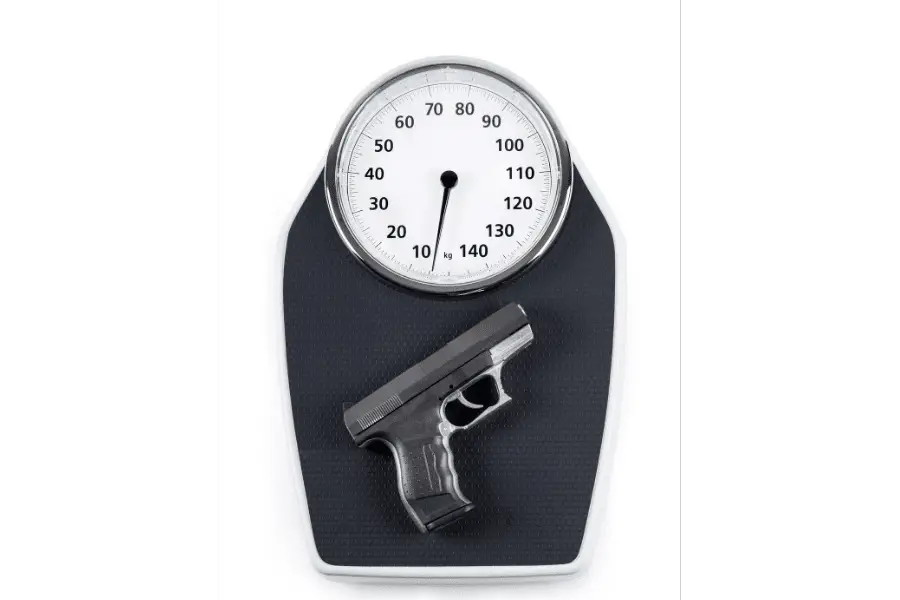 Airsoft Gun Weights by Type
The following is a list of the typical weight of different types of airsoft guns:
| | |
| --- | --- |
| Type of Gun | Weight |
| Pistol, Handgun | 1.4-1.5 lbs (0.6-0.7 kgs)  |
| Shotgun | 2-3.25 lbs (0.9-1.4 kgs) |
| SMG (submachine gun) | 3-6.5 lbs (1.3-2.9 kgs) |
| Machine Gun | 4.6-14 lbs (1.8-6.3 kgs) |
| Assault Rifles | 6-9 lbs (2.7-4 kgs) |
| Sniper Rifles | 7-8 lbs (3.1-3.6 kgs) |
Table: Weight of airsoft guns depending on the type.
As you can see, depending on the make and model, there can be a wide range in weight. 
In addition, if you choose to have add-ons on your guns, such as a flashlight, laser pointer, or magnifier scopes, expect to feel the difference. 
Choosing the Right Airsoft Gun
If you're a total beginner, it's probably worth looking for a lighter airsoft gun. That way, you can practice for longer without feeling any strain on your arms. 
Here are airsoft guns designed with lightweight qualities:
If you're interested in a more realistic airsoft gun, you can try some of these guns that may be slightly heavier than other replica firearms:
The DPMS Full Auto SBR CO2-Powered BB Air Rifle from Amazon.com is very life-like. Weighing 6.21 lbs (2.82 kg), this design will start to feel a little heavier after a while, but it's more than worth it. It allows you to choose between semi and full auto capability and has a moveable angled foregrip.
The Action Army AAP-01 Assassin Green gas-powered pistol will provide the look, feel, and weight of an authentic replica handgun that can prove to be helpful in training and tactical airsoft scenarios. It features a comfortable polymer frame design which gives it a comfortable and nimble feel. Additionally, you can flick a button to switch between the full-auto and semi-auto modes. 
The VFC Avalon M4 Samurai Edge with Gen2 ECS Avalon Gearbox Black weighs in at 5.74 lbs (2.6 kgs). With a slim and modern look, this gun provides a realistic experience for the airsoft player. 
Conclusion
When you're outside in the elements all day during an airsoft battle, you're going to be sore and aching no matter how much weight you're carrying. But, of course, the more realistic and heavy your gun is, the more your arms will ache. 
It's always helpful to talk to fellow players about their own guns. Alternatively, ask a store clerk that sells airsoft guns and how they feel about carrying the weight.