You're a natural at paintball and never miss a shot. This can mean a lot for your score ratio, but it will not prevent the inevitable fogging up of your mask in the middle of a game. It happens to us all and needless to say, it can kind of throw off your focus when you can't see anything. Don't get frustrated at physics. Be proactive about finding a quality mask that will work with you instead of against you.
The 5 best anti-fog paintball masks on the market in 2023 include
The Dye Precision i5 Thermal Paintball Mask
Base GSF Paintball Goggles
Empire E-Flex Paintball Goggle
Virtue VIO Paintball Goggles/Masks – Contour II, Extend II, and XS II
JT Spectra Flex 8 Thermal Coverage Goggles
I chose these selections based on the extensive research I did (tens of hours) on forums and from personal use. I collected top user reviews, checked for the highest ratings for performance, and looked for a design that intentionally combats the lack of air circulation that results in a fogged mask.
This guide will cover why your mask continues to fog up in the first place, recommendations of the top brands to consider, each of their strengths and weaknesses as weighed against the competition, home remedies with tips to prevent fogging, and more! Don't tap out of another game due to visual impairments from the fog. Let this quick read be your in-depth guide to never being blind-sided by fog again.
In a hurry? You can check the masks straight on Amazon.
Image
Title
Prime
Check on Amazon

Top

Dye i5 Paintball Goggle (Onyx)

Prime

Eligible

Check on Amazon
Empire Paintball E-Flex Goggle, Black

Prime

Eligible

Check on Amazon
Virtue VIO Contour II Thermal Paintball Goggles/Masks - Graphic Black Fire

Prime

Eligible

Check on Amazon
JT Spectra Flex 8 Thermal Full Coverage Goggles, Camo, Clear

Prime

Eligible

Check on Amazon
The 5 Best Anti-Fog Paintball Masks on the Market
Fogged-up masks are not only annoying but also can be dangerous. Many players hate the feeling of the fog build-up or humidity inside their masks.
This may cause them to lift it up to wipe, but by then, they could be hit in the face or eye by a paintball bullet. This wouldn't just hurt, but it could potentially blind you at the right speed.
We all know how annoying it can be when you're dominating in a game then all a sudden your goggles fog up like a hurricane is coming through. It's not just humidity.
The reasons that your mask is getting foggy on the interior of your goggles is due to:
Lack of air circulation – This is the largest contributing factor. Your mask is filled with water vapors from your breath that is causing condensation on the inside of the lens. It has nowhere to escape and causes the mask to fog. What you need is ventilation.
It's phasing – This is physics. As moisture cools down off the breath, it changes in phases from vapor to condensation. Condensation is actually visible to the human eye, while vapor is not.
It's cold outside – This is just like when it's snowing, and you can see your breath. If it's warmer where your body is (the inside of the mask) than it is outside of the mask, you'll experience fogging. When your warmth is trapped inside the mask, these warm vapors have nowhere to go except to fog up your lens.
It's hot outside – Yes, it happens in both weather extremes. If it's not the freezing exterior making your goggles fog up, it's the warm, humid air! If it's high humidity, you may experience more fog collecting on your mask. The moisture is coming from your sweat to cool your body down. After that sweat evaporates, it has nowhere to go but the inside of your mask and the lens.
So now that we understand what causes the fog inside your mask, it'll be easier to shop for the right set for your needs. What your focus should be on will be the product descriptions that mention keywords like, 'ventilation,' 'air circulation,' and 'breathability.'
Good ventilation will save your game because it will keep the mask cooler on the inside and balance with outside temperatures, while also allowing hot air to rise and be evaporated from your suit instead of being trapped inside.
You don't want to feel hot and muggy, so this is the place to start!
#1 – Dye Precision i5 Thermal Paintball Mask
Our first honorable mention has to be the Dye Precision i5 Thermal paintball mask because it is truly the epitome of perfect design. It is designed to create a fog-free view that is not distorted in any way, regardless of the climate outside.
This mask is very popular for paintball tournaments.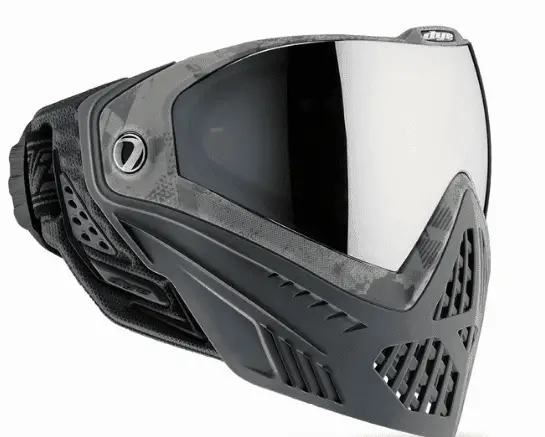 You have a 360-degree view while playing, so you're covered from all sides. With a nearly 4.6-star rating out of 5 and over 100 reviews, you can expect this mask to outperform most others on the market.
It is a great investment for a real champion of the sport that wants to end his fog-troubles right away. It also boasts of its low and close profile while ditching the obnoxious sun visor overhead. What this does is place your face closer to the gun for mag-fed games to be much easier.
The Dye Precision mask is also very comfortable and easy to wear. With a high thread count, it is soft and stretchable to fit your unique shape. There are dozens of colors and styles to choose the one more comfortable for you. The real selling point of this mask is it provides a truly wide peripheral field of vision.
Reviewers mention that it doesn't trap your voice like other masks as well so you can communicate to your team with your voice being carried instead of muffled. Easy to wear over glasses and no more fog-woes. With high-definition lenses, I don't know what this mask can't do.
Plus, Amazon Prime 1-day shipping! Sold!
Get it from Amazon here – Dye Precision Thermal Paintball
You can purchase the previous version – i4 slightly cheaper. Get it from Amazon here – Dye Precision Thermal Paintball
#2 Base GSF Paintball Goggles
This is the ideal option for those looking for budget-friendly masks. You don't need to spend a lot to avoid the fog. Base Paintball Goggles are designed with quick-release anti-fog screens, so you always have perfect visual range.
There's also a visor for added optical protection, and this presence of the visor also minimizes glare potential in all kinds of conditions. These goggles are accessible to many due to the price, and many choose them because of their over 4-star rating on Amazon.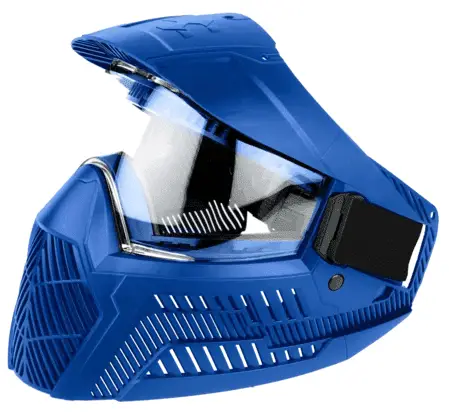 Besides perfect vision, Base Paintball Goggles are comfortable and come with an adjustable strap and contouring feature to fit your face. You can adjust it to what's comfortable to you because the straps are brilliantly non-slip and resist moisture! You don't have to worry about your sweat causing your mask to slide down anymore as Base has solved all of your problems.
They even have a quick-change foam and lens system as well as its woven strap, to hold its silicone coating, which can prevent slips. No design detail has left out, and this is actually affordable for any budget. I do want to mention some ratings said it was tight on the ears, but that's an easy fix by adding some cozy padding there.
You can purchase it on Amazon here – BASE Paintball Goggles
#3 Empire E-Flex Paintball Goggle:
Another beautiful and sleek option is the Empire E-Flex Paintball Mask. This mask's middle name is Ventilation. You will have no trouble with frequent fog-ups, and it's also very comfortable to wear.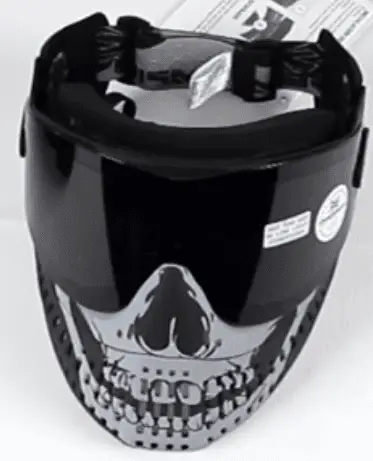 With a thick lens that does not cause distortions in your field of vision or sun glare, this entire design has been well-thought-out and executed. Another huge selling point is how lightweight the mask it. You won't feel weighed down or like a bobble-head on the field.
Lastly, it also has a dual-layer anti-fog lens with a thermal treatment, which is why it's such a rockstar against fog. With foam supports on the ear, they've basically thought of everything. They fall into the middle price range. Not too expensive and not the cheapest. With nearly a 5-star review, it's a safe investment against your fog-enemies.
You can purchase it from Amazon here – Empire Paintball Goggle
#4 Virtue VIO Paintball Masks:
The best masks in this series are the Contour II, Extend II, and XS II. The prices are a little higher on this one, but that's because it is sheer top-quality. With over 4.5 stars on Amazon, this is a top contender in the paintball industry and really a very fair investment.
If you think of how much time you'll spend playing in the mask, and how much your play could improve when you don't have to deal with a fogged-up mask – it's worth it. Look no further than the Virtue as they are designed to give you the most comfort, protection, and vision possible on the field.
With an anti-fog screen and thermal lenses, it is easy to see in all climate and humidity conditions. There are proper airflow and no obstruction to hearing so you can properly communicate and deliberate with the team easily. During a gritty match, this gives a great competitive advantage.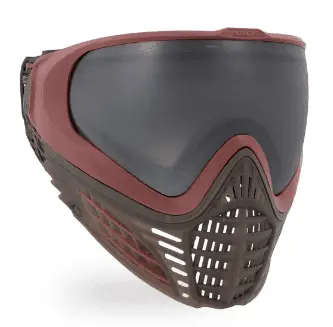 Reviewers say you'll literally have more fun playing the game in this mask and not be wasting your time on the annoying equipment-hinderances that you may not even know are affecting your game as much as they are.
The price includes the face mask, foam, lens, straps, and ear pads. With a built-in ventilation system, you'll see the vents right at the bottom of the mask. Not only does it make you less hot during the game, but it also keeps paint out of the inside of your mask.
One drawback you should consider if you love the visor is that it doesn't come with one! Purchase separately or consider a different mask in that case.
It is strong and durable as it is built to take blows and be shock-absorbent. This means the hits won't hurt as badly, which any player can attest to not loving.
You can purchase it here – Virtue VIO Paintball Goggles Masks
#5 – JT Spectra Flex 8 Thermal Coverage Goggles:
Last but not least, the JT Spectra Flex 8 Thermal Mask is another great option for those who are truly serious about paintball. Quite affordable, in mid-price range for basic models.
The mask guarantees that your entire face and head receive complete protection and is well suited to those playing in the forest especially as it camouflages. Lightweight at only 1.9lbs and built-in sun visor, there isn't much one could ask for that the JT Spectra isn't putting on the table.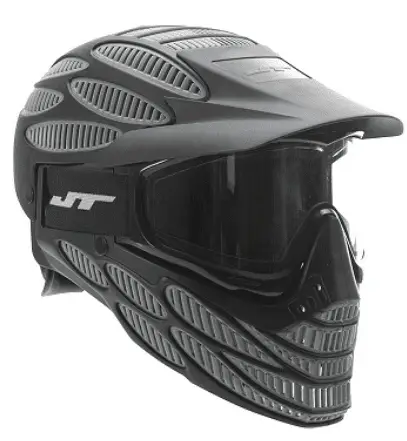 These goggles also provide an excellent field of vision, at nearly 260 degrees. With detachable parts, the mask is very straightforward to maintain and clean.
Again, the only real complaint with this mask is that it is not as comfortable near the ears. This is a common complaint with many masks, but I feel it is easily remedied by adjusting the strap and/or inserting your own padding. For the right mask with good ventilation, it's worth the extra step for your comfort level.
In the mid-price range, it's worth considering based on high user-ratings alone.
You can purchase it here – JT-Flex-8-Head-Guard-Grey
Bonus Tips for Anti-Fogging Your Mask
If you don't have money to invest in an entirely new mask right now, don't worry! There are tons of options you can try that may save the mask you already own that you hold so dear to your heart. Don't part with the sensitive stuff yet. Try these fog hacks first.
The best hacks for removing fog from your paintball mask include:
Anti-Fog Spray – C'mon, you didn't think I'd let you leave this article without mentioning that you can simply purchase a spray for this. Of course, it's ideal to get the entire mask which prevents fog, but if that's not financially feasible right now, just purchase the spray!
It's made to prevent the vapor buildup and many players swear by it. Easily found on Google or Amazon. You're welcome. (Our recommendation is Jaws Quick Spit Antifog Spray, $20 on Amazon).
Shaving cream – Yep. Just some simple shaving cream can protect your lens. All you have to do is spread a small dab of shaving cream on the lens, and rub it in as a thin coat. Let this dry for a bit then remove the excess.
This leaves a thin layer of protection that will help prevent vapor or trapping moisture. This isn't the most ideal as it may foggy up your view just by leaving a white tint to the glass. Let us know if this one is a myth or actually worth it!
Vaseline – This will at least be clear as compared to shaving cream. The process is similar to that of using shaving cream. This will leave a thin barrier to prevent condensation from sneaking up on you.
Soap – Just a simple bar of soap will do the exact same trick. The point is your creating a layer between the glass and your breath. It's not ideal as it could leave residue on your lens, but it's up to you if that's better than fogging up and losing the battle.
Mask Fan – If you've purchased a mask thinking you were getting the crème-de-la-crème of paintball ventilation, but still have fogging, you may need a mask fan. Ventilation is the key to a good mask that doesn't fog, but sometimes looks can be deceiving.
The sole purpose of a mask fan is to circulate air inside the visor and push the hot air outside the mask. Some people hate them and find them to be a big hassle, but they may feel divine to you, especially if you've been overheating.
Please note that the mask fan will have to be on the entirety of the game as you can't just switch it on and off when it fogs like a car defroster. Be aware before purchasing if you don't want the noise or bother through the entirety of your game.
Water Resistance Spray – This is a great option because it won't cause that residue on your lens and is used by tons of athletes that require pristine vision while they're competing. Water repellent spray is used by snowboarders, scuba divers, bike riders, and so much more. It's proven to be effective and much cheaper than an entirely new mask. 
Be careful you don't purchase harsh chemicals that may damage the mask. If unsure, stick to sprays that are specifically made for paintball masks.
Spit-Shine – Apparently, it's for more than just your shoes! Divers use spit in their masks, and it is said to work very effectively. The only things to be aware of are that diver masks have a tight seal around to keep the water out while your paintball mask is not made that way. This may cause some differences in the effects of moisture retention inside the mask. If not certain about putting spit shine in your mask, no problem! Stick to paintball mask anti-fog spray to be safe.
These are just some fun ideas to try if you're on a budget. But in this case, I really would recommend the simple purchase of anti-fog spray made specifically for your paintball mask. This is the most direct and affordable route to go with the highest rate of effectiveness.
You can also be certain that the harsh chemicals won't damage your mask as they're made to be used with paintball masks. Play it safe so you can keep winning all the games! Eye on the prize. 
The Verdict
To avoid issues with a foggy mask, you'll need to have a preventative strategy in place. I hope these recommendations and genius tips can be of use to you so you can win more and keep your head in the game.
This will mean investing in a solid-quality thermal lens mask with good ventilation. They say there's no 100% fix for preventing fog but being intentional about the equipment you use will significantly reduce your odds of an accident. Don't spend your game being foggy-eyed like a San Francisco morning. Be proactive now so you can dominate later!