Paintball is a hobby that appeared in the 1970s in which players eliminate their opponents by hitting them with paintballs thrown by "paintball launchers." The paintball mask (also called goggles) is a critical piece of equipment that players need to wear for their safety. They are made of resistant material to withstand the impact of balls, but what are they made of?
Paintball masks are made of various plastic parts. There are two types of screens: a thermal screen, a double glazing system to prevent fogging in the mask, and a single screen that doesn't prevent fogging. There are a multitude of paintball masks that differ according to the tastes of the players.
Before buying your paintball mask, you need to evaluate all the diverse components to make sure it will suit all your needs. In this article, you'll discover what makes a paintball mask safe, its components, and our top picks. Let's dive in.
Why Do You Need a Mask To Play Paintball?
The paintball mask is arguably an essential piece of your gear. It is designed to protect your face from possible injury. Indeed, the mask protects the head and, more particularly, the eyes (reminder: a paintball ball is propelled at 300 FPS – 90 m/s).
When people started playing paintball many years ago, the paintball mask did not exist. With no alternative, players put their eyes at risk by using construction goggles for protection.
The paintball industry has changed a lot since then. Several companies have developed separate lines of masks offering comfort, style, and above all, safety. The paintball masks that we see today provide optimal protection for the eyes, mouth, face, and ears to the point that its wearing has become mandatory at all times on the playgrounds.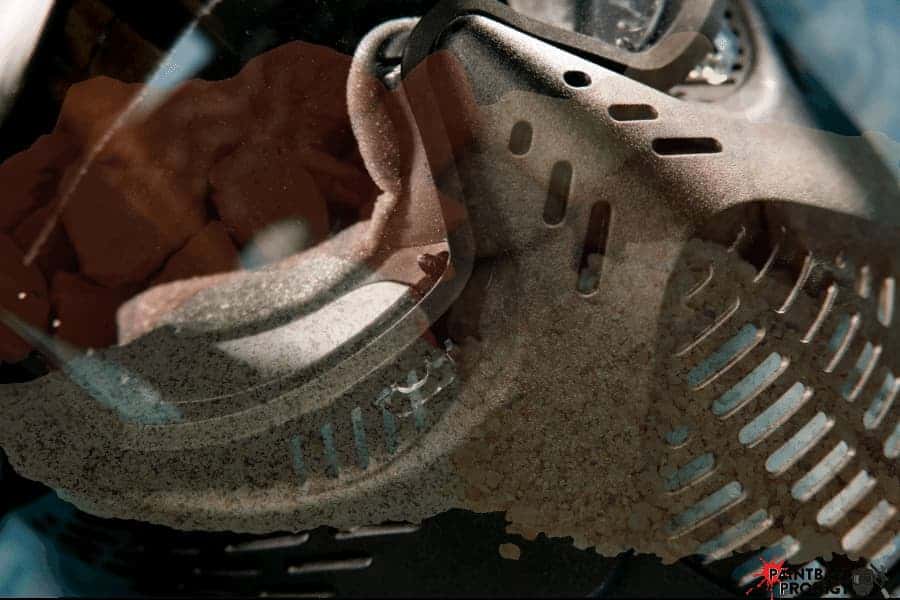 You can even find paintball masks that fit if you wear glasses.
Components of a Paintball Mask
Paintball masks are made up of four main components: lens, frame, protective mask, and goggle strap.
Lens
A paintball mask lens is usually made of polycarbonate. This material offers more strength and resistance to breakage. The lens fits securely into the spectacle frame to protect the eyes from bumps and paint splashes.
Because polycarbonate is soft, the lenses are made with anti-scratch coatings. But you still need to take great care of your lenses. Most suppliers recommend the replacement of lenses that are badly scratched to avoid possible injuries.
A paintball mask lens comes with a single or double lens. A one-piece lens is a design on which an anti-fog coating is applied. Simple lenses are easier to maintain and clean, but they won't resist fogging.
Thermal paintball lenses are made of a thick outer lens and a thinner inner lens joined by a waterproof foam.
Air trapped between the lens isolates the lens for the best anti-fog protection available. But be aware that thermal lenses need good cleaning and maintenance.
Indeed, the inner lens is softer and more prone to scratches if you don't use a microfiber cloth. You can't soak it in water to clean it because water will constantly seep between the lens and fog.
Frame
A paintball frame is what makes the lens suitable. Sometimes the frame and the mask of the glasses are all in one piece. An eyeglass frame has either a fixed lens or a quick-release lens system.
A quick-release lens system is much more convenient than a fixed system for cleaning and maintaining your paintball mask. Still, it's more complex to build, which increases the cost.
The foam on the spectacle frame is what comes in contact with your face when you wear them. The foam will form a good seal, which prevents your exhaled hot breath from rising under the lens.
Foam is also essential for comfort. Inexpensive masks generally have a stiffer foam, while the best masks have a thicker, softer material. High-end masks often have double-layered foam, with one thicker layer providing comfortable support.
Protective Mask
The protective mask is what protects your face. Different paintball masks offer diverse degrees of protection. There's no such thing as a "perfect" paintball mask; consider your style of play and your level of competition.
The first thing to consider is the full coverage you want.
Beginner paintball masks usually are bigger to fit more people and have a larger area overall, particularly along the jaw. Tournament players, on the other hand, try to reduce their target profile as much as possible.
High-end paintball masks are more streamlined, closer to the face, and generally provide as much coverage to meet the field's demands. Thus, tournament masks often leave the lower chin, jaw, and forehead exposed on players with large heads and broad faces.
What is the protective mask made of? Recreational masks are usually constructed of solid or semi-rigid plastic. 
This provides the ultimate in bullet impact protection. Those with soft ear cups are contoured and comfortable but do little to absorb the uncomfortable impact of a close-range shot.  
Strap
The strap is another important component to look for when choosing a paintball mask.
All eyewear straps are elastic for a perfect fit. The best straps on the market have several silicone beads inside, so the sizing sliders adhere and stay in place.
If your bracelet does not have one, you will have to readjust throughout the day. High-end masks often have a toothed clamp to hold the fit in place.
Full Head Paintball Mask
A different category is the whole head paintball mask. This is usually a typical model mask with a complete helmet section, which is permanent or removable.
The best are made of a flexible material that is stiff enough to absorb shock effectively but soft enough to comfortably conform to your head.
It's important to note that full-face paintball masks tend to get hot. Still, they offer unparalleled protection so that you can play with confidence.
Due to the increased heat and condensation of the whole head coverage, a thermal lens is recommended for these masks.
Which Paintball Mask To Choose?
There are a variety of paintball masks available from a wide range of lens styles, coverage, and fit.
For example, if you wear glasses, a wide model that allows you to play while wearing them will be preferred. If, on the other hand, you're someone who sweats a lot, you'll be just as happy with a model that prioritizes ventilation and humidity management.
To enhance your gaming experience, be sure to purchase the correct mask for your needs.
The idea that to get the best paintball mask, you have to invest a lot of money in the purchase is wrong. Choosing the perfect paintball mask depends mainly on your specific needs and preferences.
For example, you may need a lightweight mask or something that gives you maximum safety. Even other mask designs allow you to breathe easily without creating a fog that can distract your vision.
For product recommendations, here are our top picks:
This paintball mask is a unit built with great care and attention to ensure that all users enjoy maximum comfort no matter where and when they play. 
Here are its characteristics:
Anti-fog thermal lens
Anatomical fit and function
Multi-functional device
Quick and easy change system
Horizontal/peripheral vision
Exceptionally light
Face foam
The V-Force Grill Paintball Mask is one of the most purchased products in the world. These masks are made using only state-of-the-art lenses, which are manufactured to have anti-scratch and thermoset anti-fog properties to give you obstruction-free playtime. 
Here are its main characteristics:
Unbeatable distortion-free optics
Sleek spherical lenses
Unrestricted peripheral vision
Maximized bounce factor
Soft rubber center surface
Quick-change strap
Better level of stability
Conclusion
Paintball masks are mandatory safety devices that players must wear. This is because the glasses are designed to protect against paintballs traveling up to 90 m/s (300 ft/s). However, they are not guaranteed to withstand impact at higher speeds.
Before purchasing your next mask, be sure to evaluate your needs and find out which models provide you with safety, comfort, and style.
Check out the Dye Precision I4 Thermal Paintball Goggle on Amazon today.