One of the most common mistakes airsoft enthusiasts make when choosing paint for their gun is prioritizing aesthetics over functionality. A sleek-looking gun is nice to have, but not if the paint easily chips off or leaves you with a shiny gun that doesn't benefit you in the "battlefield." To help you avoid making that mistake, I've researched an option formulated with both aesthetics and functionality in mind. 
The best paint to use on airsoft guns is Majic Paints Camouflage Paint, as its olive drab color blends into most environments. It is available in other colors, and the paint gives your gun a non-reflective finish. Plus, it is weather-resistant and versatile in terms of usage and application method. 
The rest of this post will discuss these advantages in greater detail to help you understand why Majic Paints Camouflage Paint is arguably the best paint for airsoft guns. I'll also provide two alternatives later in the article, so be sure to read to the end.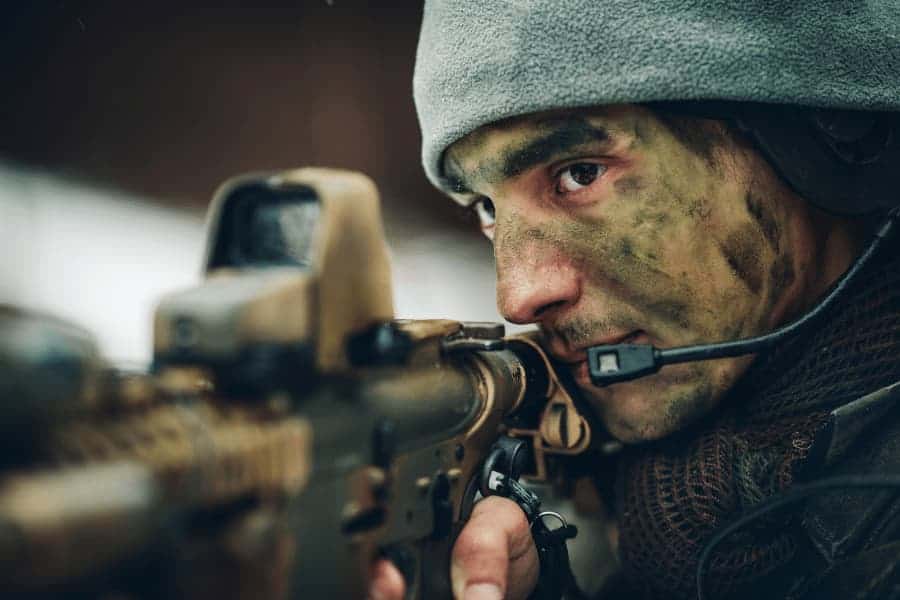 What's the Best Paint for Airsoft Guns?
The Majic Camouflage paint is the best paint for airsoft guns because: 
It comes in olive drab color to help with camouflage. 
The paint is weather-resistant.
It's non-reflective.
It gives you application and usage flexibility.
You can buy it from Amazon.com.
I'll discuss these features and their benefits in greater detail in the following paragraphs.
The Olive Drab Color Helps With Camouflage
The sheer fact that the Majic camouflage paint comes in olive drab color is enough to convince many experienced airsoft practitioners to buy because it's easier to blend into many natural settings. 
As a field gamer, the way your clothing and gear blend into the environment can determine whether or not you're going to get hit. You don't want your airsoft gun to stick out like a sore thumb and give up your position. 
Keep this in mind when investing in camouflage gear.
Instead, you want it to blend into your hideouts and make it hard for enemies to spot you, especially if you're into sniping. Olive drab is one of the best colors for camouflage. 
No wonder the U.S. Army M-1943 Uniform used it in World War II. 
So if you often play in woodlands and other similar environments, you'll want this color on your airsoft gun. If you play in different surroundings, you can always choose a different color to match your environment. 
The Majic camouflage paint is also available in dark gray, black, desert tan, khaki, and earth brown colors.
The Paint's Non-Reflective Finish Helps You Hide
The airsoft battlefield is no place for you to stand out, especially if you're planning a sneaky ambush. So while the matte finish provided by this paint might not be ideal for other applications, it's perfect for airsoft guns. 
The Majic paint dries into a flat, non-reflective finish, which helps with camouflage by preventing sun rays from reflecting off your "weapon" and ruining a perfect hideout.
The Paint Is Weather-Resistant
In addition to helping you blend into your surroundings with various camouflage colors and a non-reflective finish, the Majic paint also protects your gun. It forms a strong, durable bond that can bear the brunt of being exposed to abrasion and weather elements outdoors, increasing your gun's longevity. 
While scratching your gun against surfaces and chipping off some of the paint is always a possibility, water damage is a more significant concern for many airsoft enthusiasts.
Common damages include rust/corrosion in guns with metallic parts and a short in electric guns.
Rust is increasingly becoming a significant challenge with the emergence of full metal airsoft guns because the more metallic parts, the higher the chances of rusting. Rust does more than make your airsoft gun unsightly. 
If left unchecked, it can also corrode your gun's internal parts and compromise its overall performance.
Moisture can also short your gun's electronic trigger, motor, fuse, and other internal components. If this happens, you'll need to repair or replace the gun altogether, neither of which is ideal.
So by choosing Majic camouflage paint, you protect more than your gun's aesthetics. You also protect your pocket by minimizing the need for costly repairs and replacements.
The Paint Is Multifunctional and Easy To Use
The Majic Paint's last selling point is that it's incredibly versatile in the methods you can use to apply it and the surfaces you can use it on. Not only can you use this paint on your airsoft gun, but also vehicles, bows, trailers, tree stands, duck blinds, and boats.
Such versatility comes in handy when you have leftover paint, often when painting one or two guns. And even when painting several guns, you might sometimes elect to paint parts of the gun, as is often the case when painting sniper rifles. 
Either way, you may end up with leftover paint, and you want it to be versatile enough to be put to good use on other surfaces.
You can use the Majic paint with a paint pad, spray equipment, a quality brush, or a roller. 
Such flexibility allows you to use what you already have, minimizing the need to buy specific paint application gear.
Majic Paint Alternatives
If you can't find Majic paint at your local store or prefer something different for personal reasons, I have you covered with 2 worthwhile alternatives found on Amazon.com. These include:
The Krylon Fusion comes with most of the benefits to the Majic camouflage paint. However, it has one significant advantage over our top pick: 
It doesn't need priming or sanding. 
It's also worth mentioning that it comes with an EZ Touch 360-degree dial spray tip, making the application easier.
The Performix Multi-Purpose rubber coating's main selling point is that it leaves behind an anti-slip rubberized coating. This means it improves not only your gun's camouflage capabilities but also the handling. 
It's also worth noting that it's peelable, making it easy to remove when you want to upgrade your gun's paint job.
Conclusion
There you have it–the top 3 paints to help you color your gun to your liking. When picking one, keep in mind that the color options may vary from one product to the next. Ideally, you want to pick a paint with a color option that blends into your "battlefield." 
It might seem like I'm overemphasizing the importance of camouflaging in airsoft games, but it's really that critical.